Careers
When Harry Watts Academy first opened in September 2020, we worked with North East Ambition as part of a pilot programme to develop and strengthen careers related learning for pupils in the Explore phase in our school; the Discover pupils also have careers education.
From a young age, in the Explore phase, pupils in school already have ideas about their own interests and opinions about the wider world. In Harry Watts Academy, we begin to teach the children about themselves, their skills and interests and about possible jobs and people that they might come across in their communities. This begins in Explore as part of a topic, 'My World' where they learn about people that they might see in the local area such as postal workers, firefighters or police officers. We ensure that our pupils from as early an age as possible are introduced to a range of opportunities that are available in our local area, (Labour Market Information).
In the phases Explore and Engage it is not about pupils choosing their future careers but more about helping them to find out about their likes and dislikes, what they like to do and how they can improve themselves and their skills.
In the Discover phase of education, the pupils will have a range of experiences across the academic year and these can include the following:
PSHCE lesson presentations
STEM presentations
Linking curriculum learning to careers
Assemblies
Enrichment lessons
Career and personal development lessons
Compass+ to plan for and track individual pupils
Careers week
Visits to school from employers, employees and business owners
Visits to work places
Work experience
Learning about Labour Market Information (LMI)
How Harry Watts Academy measures the impact of the careers programme
Careers related learning is measured against the eight Gatsby Benchmarks. Sir John Holman developed the Gatsby Benchmarks on behalf of the Gatsby Foundation. They define what world-class careers provision in education looks like and they provide a clear framework for organising the careers provision at school or college. At Harry Watts Academy, we take seriously the benchmarks as they are enshrined in statutory guidance and we ensure the implementation of careers related learning.
At Harry Watts Academy, we aim to provide a relevant and engaging careers curriculum, which meets the differing needs and requirements of our learners. This is developed throughout the
learner's time at Harry Watts and is always supportive of their interests, abilities, strengths and skills. The careers programme is audited against the 'Gastby Benchmarks', (see below). We also use the Compass+ toolkit from the Careers & Enterprise Company, which is used to benchmark, manage, track and report on the school's careers programme.
Careers is integrated into the timetable in all phases; Explore, Engage and Discover. Harry Watts Academy Careers Provision has been, and will continue to be mapped against the 'Gatsby Charitable Foundation's Benchmarks', to ensure a fully developed and continually improving careers provision; they are detailed below.
1. A stable careers programme
Every school and college should have an embedded programme of career education and guidance that is known and understood by learners, parents, teachers, governors and employers and other agencies.
2. Learning from career and labour market information
Every learner, and their parents, should have access to good quality information about future study options and labour market opportunities. They will need the support of an informed adviser to make best use of available information.
3. Addressing the needs of each pupil
Learners have different career guidance needs at different stages. Opportunities for advice and support need to be tailored to the needs of each pupil. A school's careers programme should embed equality and diversity considerations throughout.
4. Linking curriculum learning to careers
All teachers should link curriculum learning with careers. For example STEM (Science, Technology, Engineering, Maths), lessons should highlight the relevance of STEM subjects for a wide range of future career paths.
5. Encounters with employers and employees
Every learner should have multiple opportunities to learn from employers about work, employment and the skills that are valued in the workplace. This can be through a range of enrichment activities, including visiting speakers, mentoring and enterprise schemes, and should include learners' own part-time employment where it exists.
6. Experiences of workplaces
Every learner should have first-hand experience of the workplace through work visits, work shadowing and/or work experience to help their exploration of career opportunities, and expand their networks.
7. Encounters with further and higher education
All students should understand the full range of learning opportunities that are available to them. This includes both academic and vocational routes and learning in schools, colleges, universities and in the workplace.
8. Personal guidance
From year 8 every pupil should have opportunities for guidance interviews with a career adviser, who could be internal, (a member of school staff), or external, provided they are trained to an appropriate level, (level 6). These should be available whenever significant study or career choices are being made. They should be expected for all students but should be timed to meet their individual needs.
Careers Advice and Guidance
Every young person needs high-quality career guidance to make informed decisions about their future. Good career guidance is a necessity for social mobility: those young people without significant social capital or home support to draw upon have the most to gain from high-quality career guidance.
Harry Watts Academy employ 'Careerwave' to give independent and impartial career guidance.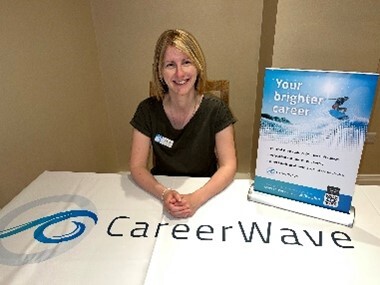 Danielle Wilson is our careers advisor and she is a qualified professional and is registered with the Career Development Institute, (see the public 'Register of Careers Professionals' at thecdi.net).
Danielle has started to work with our year 8 pupils in small groups and one-to-one giving them guidance through personalised sessions.
Useful Resources for Parents and Carers
Harry Watts Academy working in partnership with North East Ambition
Harry Watts Academy is proud to be teaching 'Careers and Personal Development' in both the primary and secondary parts of our school.
To support the delivery of 'Careers' in school we were very pleased to be part of the Primary Pilot; that was delivered by 'North East Ambition'. North East Ambition supported 70 schools in the North East of England to help young people in the region make informed career choices. The Primary Pilot is a key part of the LEP's Strategic Economic Plan.
Skills Builder
We are thrilled to announce that our bid to be a part of the 'Skills Builder' accelerator programme has been successful and staff will be receiving training from a team of dedicated members of the Skills Builder Partnership. Training has already started and we will begin to roll it out from September 2022.
Watch this space for more information.