Welcome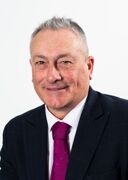 On behalf of everyone connected with Harry Watts Academy, I would like to welcome you to our website and very much hope that it will give you a flavour of the enriching opportunities on offer within our school. I also hope that it will provide you with all of the information that you require.
We aim to support all of our pupils to achieve and develop in all aspects of their life through our exciting and challenging whole school curriculum. Our ethos is to promote Support and Success Together and we firmly believe that knowing each pupil as an individual is a vital element in supporting their growth and development, within a carefully personalised programme of learning. We could not do this without the ongoing excellent support and joint working with families, professionals and all stakeholders associated with Harry Watts Academy.
All of our pupils have a diagnosis of autism and a respective Education Health Care Plan. Essential to their growth is our autism specific environment and our dedicated multi disciplinary staff team, who are highly skilled and trained in autism specific strategies and delivery.
Our school is a community where everyone feels safe and secure, valued and respected and where we have a shared commitment to providing the very best learning opportunities possible. We have the highest expectations and aspirations for all of our learners and continually seek to develop and grow, in order to ensure that their goals, dreams and potential are realised.
Please take time to browse and enjoy our website and do not hesitate to contact school if you need any further information.
Derek Cogle
Head Teacher